Sig's Celeriac Soup with Leeks and Stilton Cheese.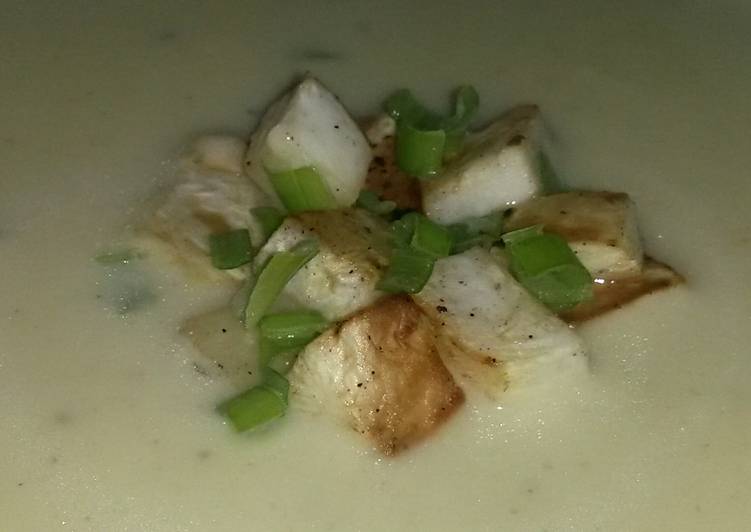 You can cook Sig's Celeriac Soup with Leeks and Stilton Cheese using 13 ingredients and 9 steps. Here is how you cook it.
Ingredients of Sig's Celeriac Soup with Leeks and Stilton Cheese
It's of head of celeriac (root vegetable).
Prepare of leek.
You need of spring onions.
It's of Stilton or other blue cheese.
You need of vegetable stock cube.
It's of fenugreek (powder) optional.
You need of garlic salt.
You need of good sprinkle of dried tarragon.
Prepare of butter.
You need of lemon (juice only) plus 1 tablespoon extra.
Prepare of evaporated milk.
It's of salt or to taste.
Prepare of or so drops of Maggi liquid seasoning ( I use the hot spicy one) or use 1 pinch of cayenne pepper.
Sig's Celeriac Soup with Leeks and Stilton Cheese instructions
Peel the celeriac and chop into small shanks. Set a few very small pieces aside for garnish..
Put the bigger pieces in a pot with the finely chopped leeks and spring onions. Cover just with water. Add a colander or sieve over this but not letting it touch the water..
Now drop the smaller celeriac pieces into 1/4 of the lemon juice and rub it into the celeriac. Remove and put into the sieve over the other vegetables in the water bring to boil thus cooking the leeks , bigger chunky celeriac and spring onions and steaming the smaller celeriac pieces at the same time..
When the smaller pieces are almost cooked remove and set aside in another 1/4 of lemon juice..
Add all other ingredients except the 1 extra tablespoon of lemon juice and the cheese to vegetables in the pot..
Simmer for five minutes.
Puree the soup, add more water to reach consistency you prefer ,add the cheese and ensure it I melted.
Gently fry the smaller pieces of celeriac until they just caramelise do not fry brown or they go bitter.
Finally season to taste with rest of lemon juice, cayenne pepper and salt if needed and arrange the smaller pieces of celeriac sprinkled with some of the green from the spring onions..