Holiday inspired pan fried duck with celeriac mash and fig sauce. Meanwhile, for celeriac mash, place the potatoes and celeriac into a pan of salted water and bring to the boil. Pass the cooked potatoes and celeriac through a ricer (or mash with a potato masher) until smooth, then return to the pan. Add the butter and cream and mix well, then season, to taste, with salt.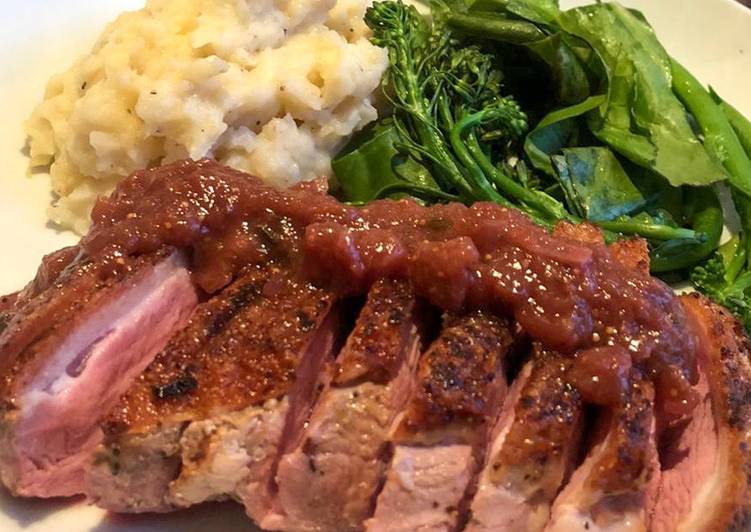 Reheat the mash and divide between two plates. Pan fried Venison with Raspberry sauce, Celeriac & Potato mash and Broccoli. I got the recipe from BBC good food. You can cook Holiday inspired pan fried duck with celeriac mash and fig sauce using 18 ingredients and 7 steps. Here is how you achieve it.
Ingredients of Holiday inspired pan fried duck with celeriac mash and fig sauce
You need of The celeriac mash.
It's 1/2 of a celeriac.
Prepare 2 of big potatoes (I used Maris piper).
Prepare 1-2 tbsp of creme fraiche.
Prepare Half of a tsp nutmeg.
It's to taste of Salt and pepper.
It's of The duck.
Prepare 2 of x duck breasts.
Prepare 2 of garlic cloves bashed / skin on.
Prepare sprigs of Thyme.
You need of Seasoning.
You need of The sauce.
Prepare 4 of ripe figs.
You need 1 tsp of sugar.
You need of Good splash balsamic vinegar.
You need of Good splash red wine.
You need 2 tsp of fig jam/chutney.
Prepare of Water.
However, I didn't have any blackberries so. While the duck rests, reheat the celeriac purée, braised celeriac, and sauce. Spoon some celeriac purée onto each plate in a swirl. Add a spoonful of candied kumquat purée and a wedge of braised celeriac, topped with some of the reduced cooking liquid.
Holiday inspired pan fried duck with celeriac mash and fig sauce step by step
Chop the celeriac and potatoes and add them to a pot of cold water. Season with salt and bring to the boil. Then reduce the heat and simmer until soft..
Once cooked, strain the vegetables and mash. Add the creme fraiche and finely grated nutmeg and keep mashing until smooth. Season and put in a warm oven..
Prepare the duck – score the skin, season on both sides and then place the duck skin side down on a hot non-stick pan over a medium heat. Cook for 15 – 18 minutes. After about two or three minutes add the Garlic and thyme.
Meanwhile prepare your sauce. Finely chop the figs and add to a pan with a little olive oil. Fry for 2 mins. Turn up the heat and add a good lug of red wine and allow to reduce. Then add a little sugar, the chutney and a dash of balsamic vinegar. Reduce the heat and allow to cook. Add water as you go to keep it saucey. Cook for about 10 minutes..
After 15-18 minutes of cooking skin side down, flip your duck breasts and cook for another two minutes on the other side..
Remove from the heat and leave to rest while you prepare your plates, cook your veg and make sure your celeriac is warm..
Slice the duck (it should be pink) and serve..
Cooking duck breast at home is as easy as one, two, three. First, score the skin so the fat can quickly render away. Second, cook it low and slow for tender meat and a crispy skin. Third, use the tasty browned bits that develop during cooking to make a quick pan sauce to top it all off. For the mashed potato, chuck all the ingredients in the boiled potato, mix well.