Teriyaki Tsukune.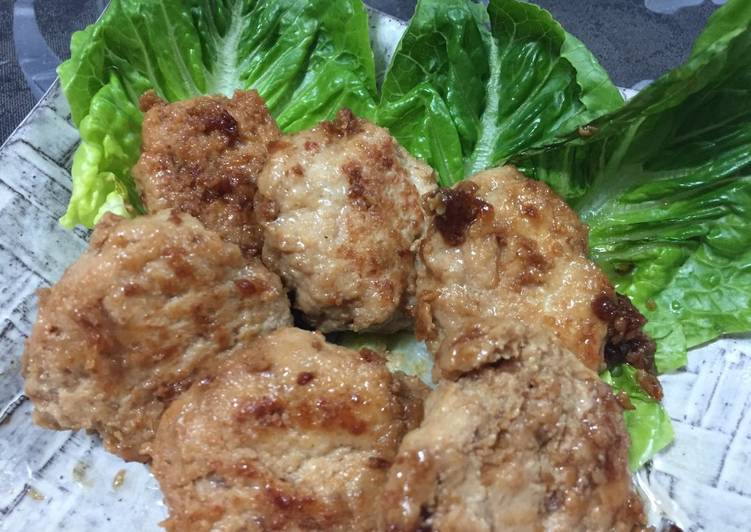 You can have Teriyaki Tsukune using 12 ingredients and 11 steps. Here is how you achieve it.
Ingredients of Teriyaki Tsukune
You need of <Chicken patties>.
You need of Minced Chicken.
You need of Onion(make mince).
You need of Silken Tofu.
You need of salt.
It's of pepper.
It's of Leaf lettuce.
It's of <Sauce>.
You need of Sugar.
It's of Sake (Cooking Rice Wine).
It's of Soy Sauce.
It's of Mirin.
Teriyaki Tsukune instructions
Combine te minched chicken, minced onion, Tofu, salt and pepper and mix until it become sticky..
Make it into 12 to 15 peices round patties (Bite size)..
Heat 1tbsp salad oil and put the chicken patties into it. When they turns golden brown, turn over and cook the other side..
Mix all ingredients of sauce and add in 3..
Chef Yellow Onion – Large SG$1.45/700g at FairPrice.
Silken Tofu Extra SG$0.95/300g at FairPrice.
Cooking Salt SH$2.95/Kg at FairPrice (Any salt is OK).
Japanese White Suger SG$3.5/kg at DonDon Donki.
Sake- Cooking Rice Wine SG$5~7/500ml at RedMart, Sakuraya, Dondon DONKI etc.
Soy Sauce – High recommend this soy soy sauce which is named Yamasa Konbutsuyu – SG$7~9/L at Dondon Donki, Mid Town Mart etc.
Hinode Hon Mirin SG$4.6/320ml at RedMart.