Sushi donuts. Move over sushi burritos, the sushi donut is here. A sushi roll shaped like a donut may be the newest craze when it comes to sushi-creations that go beyond the traditional sushi roll. These colorful sushi donuts are a fun way to make sushi at home and you can customize them to suit your own tastes.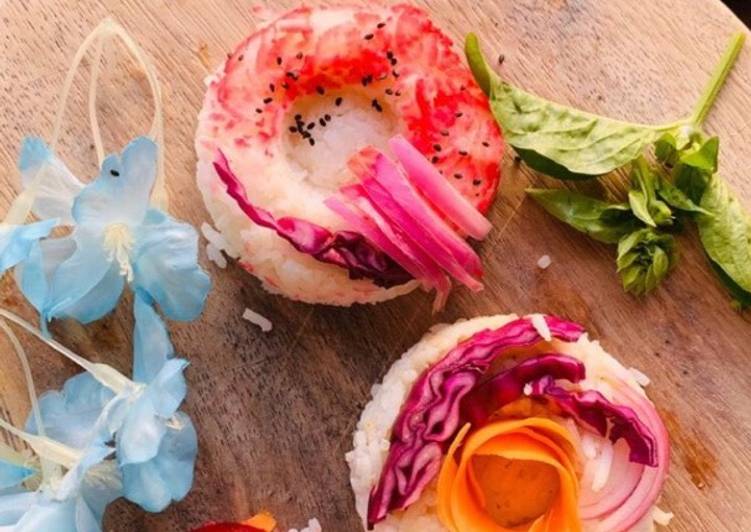 Choose some pops of color for the sushi donuts with red salmon roe (fish eggs) and black & white sesame seeds. Top it all off with sushi rice (prepared in a rice cooker), flip it over, and voilà, a perfect sushi donut!; You can easily find sushi-grade tuna at select grocery stores like Whole Foods or The Fresh Market.; If you're skittish when it comes to using sushi, make. There are many different types of sushi out there, from Chirashizushi and Nigirizushi to Oshizushi and Inarizushi. You can cook Sushi donuts using 10 ingredients and 5 steps. Here is how you achieve that.
Ingredients of Sushi donuts
It's 1 bowl of rice.
It's 1/2 spoon of sugar.
Prepare 1/2 of cheese.
It's 1 spoon of soy sauce.
You need 1 spoon of Sichuan oil.
You need 1 of sliced purple cabbage.
It's 1 of sliced onion.
You need 1 of sliced carrot.
Prepare 5-6 leaves of basil.
Prepare 1 clove of garlic.
But there's never been a donut sushi. An interesting new way to present your sushi. In this video, you will see how to present your sushi in a donut style that not only looks very pretty but also taste delicious 🙂 here are some of. Somebody (not Japanese, as Sushi donuts were created by someone in Australia, I believe) created Sushi donuts and posted them on Instagram, which went viral.
Sushi donuts instructions
Boil the rice along with sugar..
When boiled add cheese to it so that it holds it's shaped..
Put the rice mixture in a donut mould..
Unmould it and add your veggies..
Ready to serve..
Cook the sushi rice and steam the veggies. Stir in the seasoning and the rest of the ingredients, mix it all together and stuff this mix into a donut pan. Simply turn the pan upside down and you are good to go. Let's learn how to make sushi donuts. Not only are they totally on trend, they are fun to make and actually taste AMAZING!