Aaloo Gulab Jamun.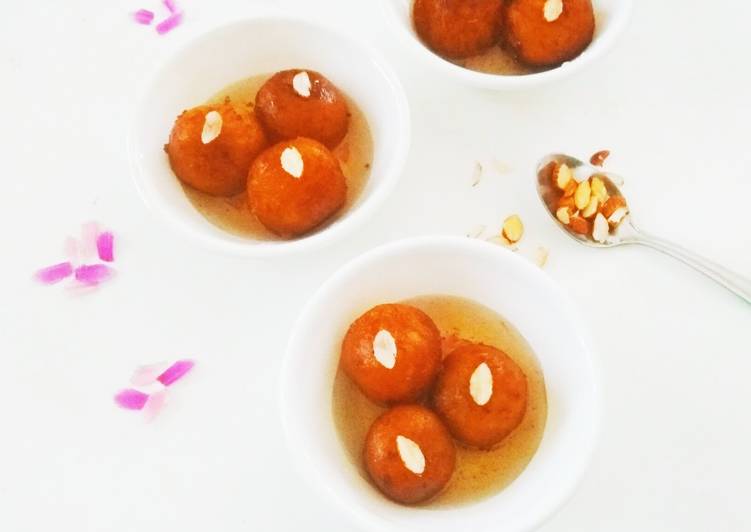 You can cook Aaloo Gulab Jamun using 9 ingredients and 12 steps. Here is how you achieve that.
Ingredients of Aaloo Gulab Jamun
You need 1 cup of mashed potatoes.
It's 2 tbsp of Buckwheat/Singhara flour.
It's 1/4 cup of grated khoya.
You need 2 cups of sugar.
You need 1 cup of water.
Prepare 1/2 tsp of Rose water.
You need as needed of saffron.
You need 1/4 teaspoon of cardamom powder.
It's As needed of Oil/ghee for deep frying.
Aaloo Gulab Jamun instructions
Add mashed potatoes in a bowl.
Add khoya.
Add flour, if required add pinch of baking soda. I have skipped it.
Mix well to form soft dough.
Shape the dough into equal small/medium sized balls without any cracks.
Heat sugar and water in a bowl. Cook until it reaches half string consistency. Switch off.
Add saffron, cardamom powder and rose water. Mix well. Keep it aside.
Drop potato balls into hot oil.Fry the jamuns over low to medium heat, let it remain in hot oil for 1 minute before flipping.
Deep fry until well browned from all sides.
Drain excess oil over tissue paper.
Immediately add them to warm sugar syrup. Let it soak for few hours.
Garnish with nuts and serve cold.