Kache kele ke pakode (raw banana fritters).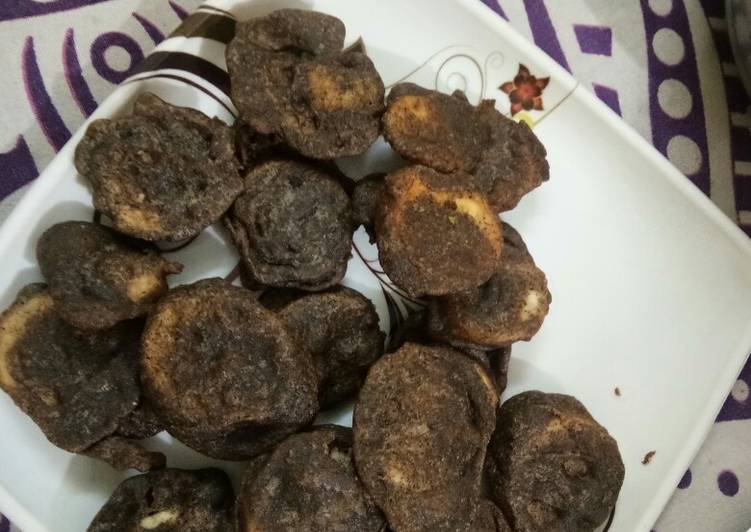 You can cook Kache kele ke pakode (raw banana fritters) using 9 ingredients and 5 steps. Here is how you achieve it.
Ingredients of Kache kele ke pakode (raw banana fritters)
You need 1 cup of Buckwheat Flour.
Prepare 3-4 of Boiled and Mashed Banana.
It's 2 of green chilies.
It's 1 teaspoon of chopped Anardana.
It's 2 tablespoon of dry Roasted Peanuts.
Prepare 1/2 teaspoon of Cumin powder.
Prepare as per your taste of Sendha namak.
You need as required of Water.
You need as required of Oil for deep frying.
Kache kele ke pakode (raw banana fritters) step by step
Start with first roasting the peanuts. Heat a pan and add peanuts in it. Keep the heat to low and stir them once or twice while roasting them. Roast them for a minute and keep them aside. Crush them with a mortar and pestle and keep aside..
Now, take bananas and boil them. When the bananas are visibly cold enough, peel the skin off and mash the banana and keep it aside. Now, take a mixing bowl and add buckwheat flour, mashed and boiled bananas, chopped green chilies in it.
After that add dry pomegranate (anardana), crushed peanuts, cumin powder and sendha namak in the bowl. Mix all the ingredients and then add water to make a thick batter. Add water in batches to make idli like batter. Keep them aside..
Now, heat oil in a kadhai and when the oil starts to smoke carefully shape small balls with your hands and pour the batter in the oil..
Keep the heat from medium to low and deep fry the pakoras until they are crisp. Sprinkle some lime juice on top with fried green chilies and coriander leaves and serve hot with tamarind chutney..