Savoury Gluten-Free Cornbread.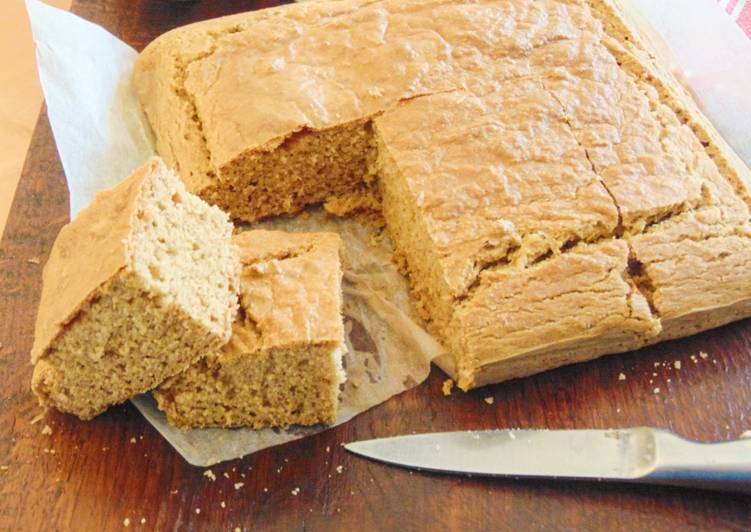 You can have Savoury Gluten-Free Cornbread using 8 ingredients and 7 steps. Here is how you achieve that.
Ingredients of Savoury Gluten-Free Cornbread
It's 185 g of fine cornmeal.
You need 55 g of buckwheat flour.
You need 60 g of brown rice flour.
Prepare 2 tsp of bicarbonate of soda (baking soda).
You need 1/2 tsp of salt.
It's 2 of medium eggs.
You need 4 tsp of fresh lemon juice.
It's 240 mls of soya/almond milk.
Savoury Gluten-Free Cornbread instructions
Pre-heat the oven to 190°C and line a 7-inch baking tin with parchment paper..
Sieve the dry ingredients into a large mixing bowl and combine thoroughly..
In a large jug or bowl, whisk together the eggs, soya milk and lemon juice..
Pour the wet ingredients into the dry ingredients. The flours in this recipe are very absorbent, so if your batter looks dry, add a tsp at time of soya milk until the batter is of a smooth, dropping consistency..
Pour the batter into the baking tin, and use a spatula to spread it into the corners of your tin..
Bake the cornbread in the centre of the oven for 30 mins. Check on the bread after 20 minutes and if it starting to brown too much, loosely place some foil over the top of the baking tin..
Remove the cornbread from the oven and allow to cool slightly before cutting into slices and serving..