Baked Falafels.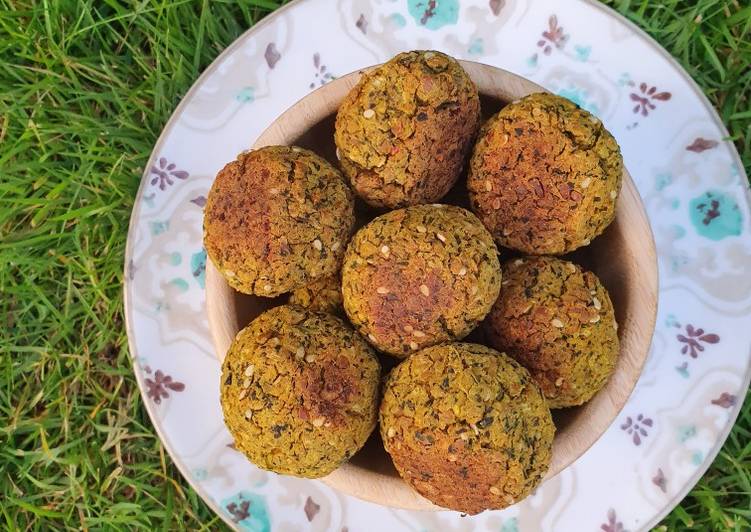 You can have Baked Falafels using 19 ingredients and 9 steps. Here is how you cook it.
Ingredients of Baked Falafels
You need of Falafels.
You need 2 Cans of Chickpeas.
It's 30 g of Parsley.
Prepare 30 g of Coriander.
It's 1 of large Onion.
It's 4 of Large Clove Garlic.
You need 1 1/2 tsp of coriander-cumin powder.
Prepare 1 tsp of crushed cumin.
Prepare 1 tsp of crushed ginger.
It's 2 of deseeded chilli.
It's 1/2 tsp of Turmeric.
It's 1 tsp of salt (as per taste).
You need 1 tsp of Lime Juice.
Prepare 1 tsp of Extra Virgin Olive Oil.
You need 1 tbsp of Buckwheat Flour (or plain flour if desired).
Prepare of More flour if required.
You need 1 tbsp of sesame seeds.
It's 1/2 tsp of Piri piri powder (optional).
It's 1 tsp of Paprika.
Baked Falafels step by step
Preheat oven to 150 degrees and drain and rinse the canned chickpeas..
Pat the chickpeas down and place on an oven tray spread out. Place in the oven for around 15 – 20 mins to dry the chickpeas out (shake the tray intermittently) we just want to dry them out a little not make them crunchy. Let them cool once out the oven.
In the meantime get a food processor and the onions, garlic, crushed ginger, chilli, oil, lime juice, parsley and coriander and grind into a paste..
Once the chickpeas are cooled add them to the food processor and pulse them with the green paste however dont over blend them as we are not looking for a humous consistency but more gritty and coarse..
Next season it! Add all the herbs and spices listed in the ingredients. Mamas thumbs are saying no to listing them out again 😬 pulse it baby!!!.
Now transfer the mix into a mixing bowl. Give it a quick taste to see if it lacks salt or other spices. If we're good to go add sesame seeds and buckwheat flour and mix with your hands. Add more flour if the mixture is too sticky icky..
Next ball the mixture up on a tray it should look like the pic. And then place in the fridge for 10 15 mins. In the meantime preheat the oven to 200-210 degrees as these are oven babies… we don't deep fry because health and dat!.
Next brush a little oil on each little flaf and place on an oven tray. Put In the oven for between 25 – 30 mins turning the balls half way. And it should come out crispy and lush!.
Serve with humous or in a pita with salad. Or just on it's own with whatever dip… do what you want… I'm not the boss of you!.