Buckwheat Banana Bread (GF, DF).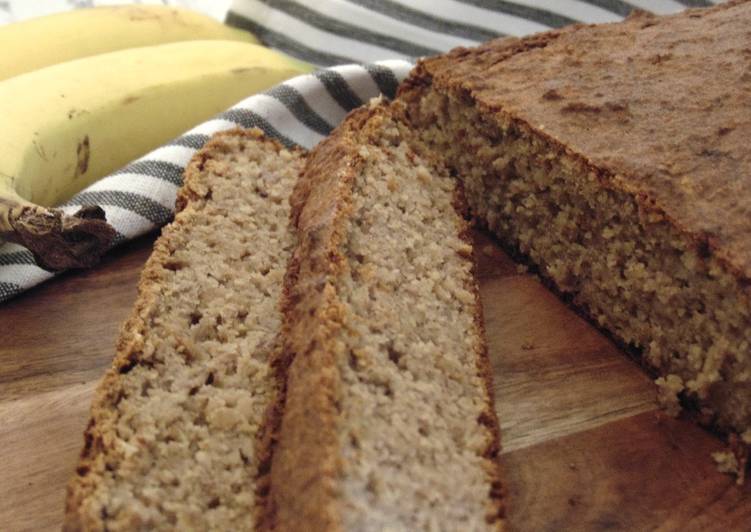 You can cook Buckwheat Banana Bread (GF, DF) using 12 ingredients and 8 steps. Here is how you achieve that.
Ingredients of Buckwheat Banana Bread (GF, DF)
You need 3 of large over-ripe bananas.
It's 2 of eggs, beaten.
Prepare 3 tbsp of coconut oil, melted.
Prepare 2 tbsp of honey.
Prepare 1/2 tsp of vanilla extract.
It's 150 mls of almond milk.
You need 100 g of gluten-free oats.
Prepare 100 g of ground almonds.
It's 100 g of buckwheat flour.
It's 3 tsp of baking powder.
You need 1/2 tsp of salt.
You need 1 tsp of cinnamon.
Buckwheat Banana Bread (GF, DF) instructions
Pre-heat the oven to 170ºC and line a square baking tin with parchment paper..
In a large mixing bowl, mash the bananas until they are fairly smooth..
Add the eggs, coconut oil, honey, vanilla extract and almond milk to the bananas and use a whisk to combine well..
In a separate large mixing bowl, mix the oats, almonds, buckwheat flour, baking powder, salt and cinnamon. Stir the dry ingredients well to mix thoroughly..
Pour the dry ingredients into the bowl with the liquid mashed bananas. Mix together well with a wooden spoon until all of the dry ingredients have been incorporated into the wet..
Pour the batter into your baking tin..
Bake in the middle of the oven for 50-60 minutes, until a skewer inserted into the bread comes out clean..
Allow the bread to cool in the pan for half an hour before turning out and cutting..