Frozen Lime Tarts with Kiwi. Kiwifruit Tart with Lime Curd Filling. Spoon the chilled lime curd into the cooled pastry shell and arrange the sliced kiwifruits on top. Kiwi & Lime Curd Tart. by Jennifer Pallian BSc, RD.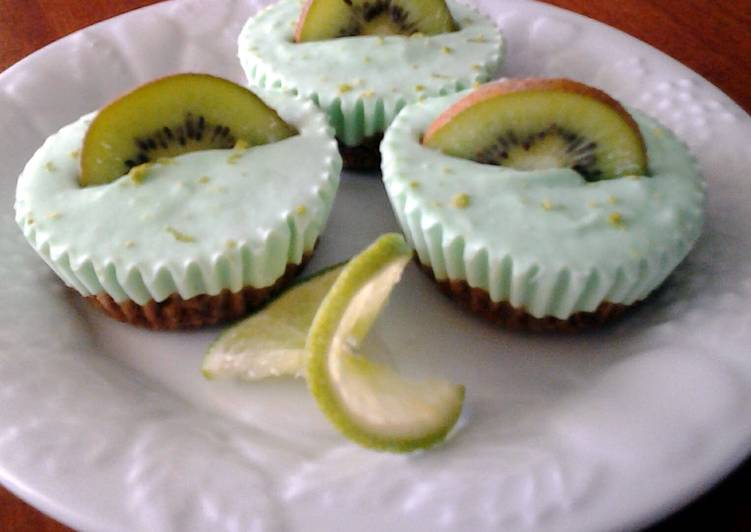 Avocado, Kiwi, lime and a little honey are the main ingredients of this smoothie recipe. It has a good balance of tart, sweet and richness. If you wanted you could peel, cut into cubes and freeze the kiwi ahead. You can have Frozen Lime Tarts with Kiwi using 8 ingredients and 4 steps. Here is how you achieve it.
Ingredients of Frozen Lime Tarts with Kiwi
You need 1 cup of ginger snap cookies, crushed (or your favorite cookie!).
It's 2 tbsp of butter, melted.
It's 8 oz of cream cheese, softened.
It's 1/2 cup of lime greek yogurt.
You need 1/2 cup of powdered sugar.
Prepare 1 of lime, juiced and zested.
You need 2 of or 3 drops green food coloring.
It's 1 of kiwi, sliced.
Or just add a few ice cubes if you would rather have it fresh. Price ingredients of Kiwi and Lime Tarts would fetch at market. These little frozen lime blackberry frozen vegan custards are bursting with flavor. This delightful raw recipe for "Blackberry Lime Hearts" comes from one of my all time favorite recipe books: Rawmazing Frozen Desserts, which is on sale this week!
Frozen Lime Tarts with Kiwi step by step
Mix cookie crumbs and melted butter. Press into a lined muffin pan and press down to make a firm crust. (I use parchment muffin cups, these things rule!).
Mix cream cheese, yogurt, powdered sugar, juice, zest and food coloring..
Spoon lime mixture into the muffin cups on top of crust. Top with lime zest and kiwi slice..
Freeze for 2 or 3 hours or overnight. Enjoy!.
These delicious and healthy key lime tarts are no-bake, vegan, gluten free, dairy free and perfect for I made these Key Lime Tarts years ago on the blog (in the middle of winter… which is kind of odd) In the original post I also used sliced kiwi as a garnish and I just love the look of the green kiwi on top of. Puree the avocado, lime juice and icing sugar. Using a rubber spatula, carefully fold in the whipped cream. Divide the puree between the tarts, arrange the slices of kiwi on top of the puree in a spiral fashion. Butter tarts that melt in your mouth, is there anything better?