Light, Refreshing Potato Salad – Vegan. A vegan potato salad that doesn't require commercial vegan mayo, tofu, cashews, OR a blender! Creamy, refreshing, and made with everyday ingredients. Labor Day is coming and it's still a million degrees out here in Baltimore, so that means it's time for a nice refreshing vegan potato salad.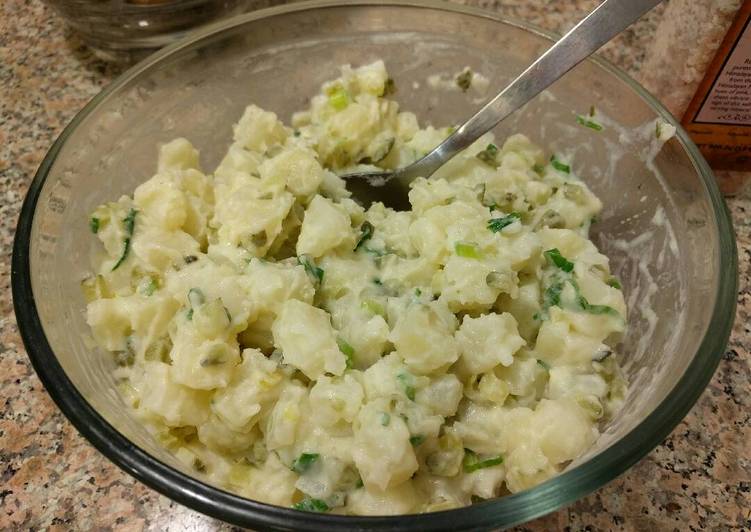 I am never left with leftovers from this potato salad! Light Mediterranean Potato Salad (Vegan, Gluten-Free) This light Mediterranean potato salad is a refreshing side to bring to summer picnics and parties, and I prefer it so much more to traditional potato salads with mayo-based dressing. This light sweet potato salad is deliciously flavoured with fresh herbs and garlic. You can cook Light, Refreshing Potato Salad – Vegan using 5 ingredients and 6 steps. Here is how you achieve that.
Ingredients of Light, Refreshing Potato Salad – Vegan
You need 2 of large potatoes (Russet or baking potatoes).
You need 1/4 cup of finely diced pickles (I use kosher dill or brine).
You need 4 of spring onions (scallions), thinly sliced.
Prepare 3 tbs. of mayonnaise (see my recipe for vegan mayo).
Prepare to taste of salt and pepper.
Sweet potatoes are rich in vitamin A, fiber and are lower in calories and carbs than white potato. This healthy mayo-free lemon dill potato salad is fresh, full of flavor and perfect for those hot summer days! Light and refreshing, thanks to the citrus and herbs this is a potato salad you'll make again and again. Add to a large saucepan and cover with water.
Light, Refreshing Potato Salad – Vegan step by step
Cut potatoes into 1/2 inch cubes..
Steam potatoes over small amount of water in a steamer in a medium pot..
If you don't have a steamer (a few dollars at Walmart and the likes), cook potatoes whole, preferably unpeeled, and then peel and cube..
Drain potatoes. While they cool slightly, you can cut the pickles and spring onions..
In a medium bowl, mix all ingredients. Taste and add salt and pepper to taste..
Enjoy!.
Add a healthy dash of salt (for flavor) and bring to a boil. In a large saucepan or Dutch oven combine sliced potatoes and salt. Bring a large stock pot of water to boil and add the cubed potatoes. Once tender, strain the potatoes through a colander and rinse with cool water. Set aside to let cool completely.