Vegan thai red curry. This Thai red curry recipe is so easy to make at home! It's much tastier than takeout and healthier, too. This recipe is vegetarian, vegan This Thai red curry made a fantastic meal last night and perhaps an even better breakfast this morning.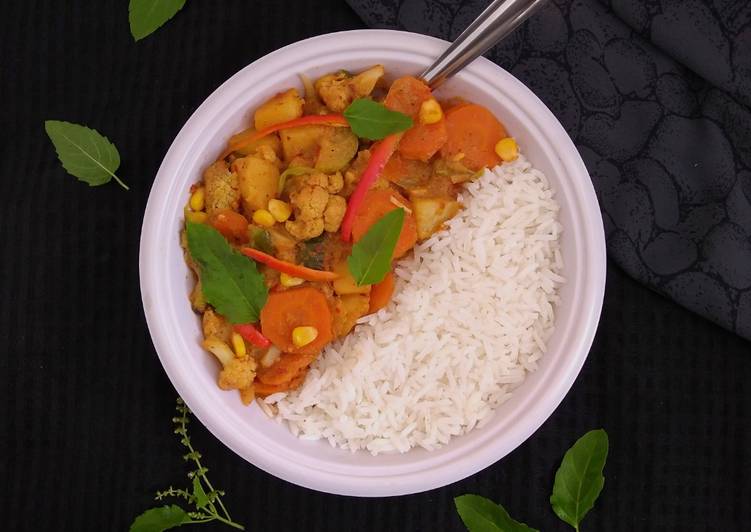 I don't care for average grocery store red curry pastes because I find them wimpy. However, Maesri is the perfect substitute! I've used supermarket red curry paste and it seems I have to use the whole jar before the dish tastes like a Thai red curry dish. You can cook Vegan thai red curry using 23 ingredients and 9 steps. Here is how you cook it.
Ingredients of Vegan thai red curry
It's 3 tablespoons of oil.
You need 2 of medium onion, halved and thinly sliced.
Prepare 1 of medium bell pepper, seeds and membranes removed, thinly sliced.
It's 1 of medium potato, diced.
You need 1 cup of vegetable broth.
You need 1 cup of coconut milk.
You need 1 of medium diced fire-roasted tomatoes.
You need 3 tablespoons of red curry paste (recipe mentioned below).
It's 4-5 cloves of garlic, minced.
It's 1 tablespoon of minced ginger.
It's 1 of small head of cauliflower, cut into florets.
It's 1 cup of carrot, cut into slices.
Prepare 1 cup of cabbage, finely chopped.
It's 1 cup of corn (optional).
Prepare 1 of large lime, juiced.
You need as required of Thai basil leaves, for garnish.
You need 3 cups of cooked rice.
It's 1 tsp of each cumin and coriander seeds.
It's 5 of dry red spur chiles.
It's 2 teaspoons of white pepper corns.
You need 1 tablespoon of fresh coriander roots.
It's 1 tablespoon of sliced lemongrass.
You need as per taste of Salt.
Don't just make a vegan curry, make an AWESOME vegan curry! Stir in Thai basil and remove from heat. Vegan Thai red curry is a veggie take on this popular crowd pleaser! So on the menu today is another Thai restaurant classic – Thai red curry bursting with a variety of vegetables, which you should feel free to swap for anything you have handy.
Vegan thai red curry instructions
For making red curry paste : Add dried red chillies, 1 onion, 3 cloves of garlic, 1 tsp ginger, 1 tbsp lemon juice, lemongrass, 1 tsp pepper, coriander roots, coriander and cumin seeds, salt, lemon zest in the food processor and make a smooth paste. Keep it aside to be used later..
Heat over medium-high heat in a large skillet or saute pan. Add the onion and cook 5-8 minutes or until beginning to soften..
Add the bell pepper, cabbage and potatoes and cook 2-3 minutes..
Add the vegetable broth, coconut milk, tomatoes, red curry paste, garlic and ginger. Bring to a boil..
Add the cauliflower florets. Reduce heat to medium-low and simmer 8-10 minutes..
Add the carrots and corns. Cook another 5 minutes..
Add 1 tbsp lime juice..
Garnish with fresh Thai basil leaves.
Serve with cooked rice..
Don't just make a vegan curry, make an AWESOME vegan curry! In this video I share with you my tricks and tips on how to maximize the umami in red curry. It's Soup Week on Oh My Veggies! Now, before you get all impressed, you should know that the reason this week is Soup Week is because I've spent the past two weeks sick and I haven't wanted to eat much other than soup. This easy vegan Thai curry is hot and spicy, but fragrant and soothing.