Vegan nut roast. There are many vegan options for Christmas dinner, but you can't go far wrong with the classic nut roast with all the trimmings. This nut roast is particularly easy to make with no need to spend the whole day in the kitchen. Nut roast is a favourite for a reason.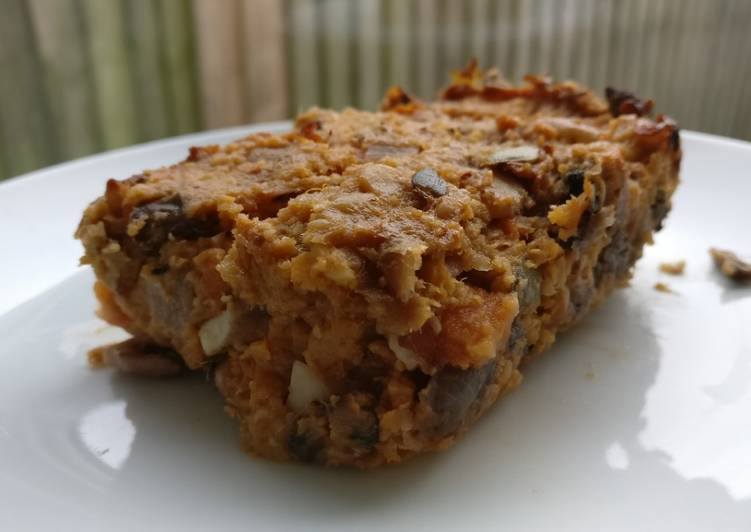 It's packed with nuts and veggies and plenty of flavor too. If you're looking for the perfect main course for a special occasion then this vegan nut roast ticks all the boxes. Cook the pearl barley with the stock cube according to pack instructions. You can cook Vegan nut roast using 17 ingredients and 16 steps. Here is how you achieve it.
Ingredients of Vegan nut roast
You need 2 of medium parsnips.
It's 2 of medium carrots.
It's 1 of medium sweet potato.
It's 2 of medium echalion shallots.
Prepare 1 cup of chestnut mushrooms.
It's 1/2 cup of raw cashews.
Prepare 1/2 cup of walnuts.
It's 1/3 cup of almonds.
You need 1/2 cup of pumpkin seeds.
Prepare 1/3 cup of breadcrumbs (use GF crumbs, GF oats or omit for a GF recipe).
Prepare 2 tbsp of nutritional yeast (optional).
Prepare 1 tsp of Smoked Paprika.
You need 1 tsp of Marjoram (or Oregano if preferred).
It's 1 tsp of Thyme.
Prepare of Vegan butter or coconut oil for frying.
You need of Sea salt.
Prepare of Black pepper.
Bring a large pan of salted water to the boil, then add the parsnips, and cook until really soft. Transfer to a food processor, along with the chestnut purée, suet and maple syrup, and blitz until it comes together into a ball. This Vegan nut roast goes extremely well with roast dinners alongside some nice roast veggies, cranberry sauce and vegan gravy!! If you want something a little lighter than a roast dinner but still want to enjoy the nut roast then you can also serve this with a salad.
Vegan nut roast instructions
Preheat oven to 190 C degrees..
Grease a 450g/1lb bread loaf tin with vegan butter or coconut oil, and line with baking paper..
Prick sweet potato with fork and wrap in foil. Bake for 20-25 minutes or until soft enough to mash. Alternatively, microwave for 5-6 minutes until soft. Peel when cooled..
Core and rough chop parsnips into 2cm chunks..
Peel and rough chop carrots into 2cm chunks..
Bring a medium saucepan of water to the boil and cook carrots for 5 minutes, then add parsnips. Cook for a further 10 minutes or until carrots are just soft enough to mash, then remove from heat and drain..
Meanwhile, finely chop mushrooms and shallots and gently fry in a medium frying pan with a knob of vegan butter or teaspoon of coconut oil until just beginning to soften. Leave to cool..
Use a pestle and mortar or end of a rolling pin to crush cashews, walnuts, pumpkin seeds and almonds so that no whole pieces remain – keep chunks for a good texture..
Add cooked carrots, parsnips, sweet potato to a bowl and lightly mash together..
Add cooked mushrooms, shallots (and mushroom and butter liquid) and all nuts and seeds to bowl..
Add nutritional yeast (if using), breadcrumbs, seasonings and salt & pepper to taste..
Mix well using stick blender, spoon or hands. It should hold its shape. If too wet, add more breadcrumbs or oats..
Press well into tin and smooth over top..
Bake in oven for 30-40 minutes, rotating half way through, or until a crust has formed on top and edges are brown and crispy. If you like a firmer 'loaf', cover with foil and bake for another 10 mins..
Remove from tin and leave to cool slightly before slicing. Keeps well for up to five days in the fridge, and can be frozen too..
**Optional extras*** – Lightly toast almonds and cashews in a frying pan before crushing – Add dried cranberries and/or chopped apricots before baking for a fruitier version – Add 1 tbsp peanut butter or cashew butter for a nuttier version, or as a substitute for one or more of the nuts above – Add 1 tbsp of maple syrup or agave nectar for a sweeter version.
Pictured below is my vegan nut roast, served with truffle mash, saurkraut, spinach leaves, vegan gravy and cranberry sauce. Nut Roast (vegan & gluten-free) Today I'm bringing you a festive Nut Roast from The Vegetarian Society Cookery School. I was thrilled when The Vegetarian Society got in contact with me and asked me to re-create one of the schools Christmas dishes. As many of you know my daughter became a vegetarian a few months back and this will be her first Christmas as a vegetarian so I had wondered about. This delicious vegan nut roast recipe is full of hearty veg – butternut squash, aubergine, red pepper – as well as nuts, herbs and green olives for flavour and texture.