Vickys Potato and Vegetable Shapes, GF DF EF SF NF.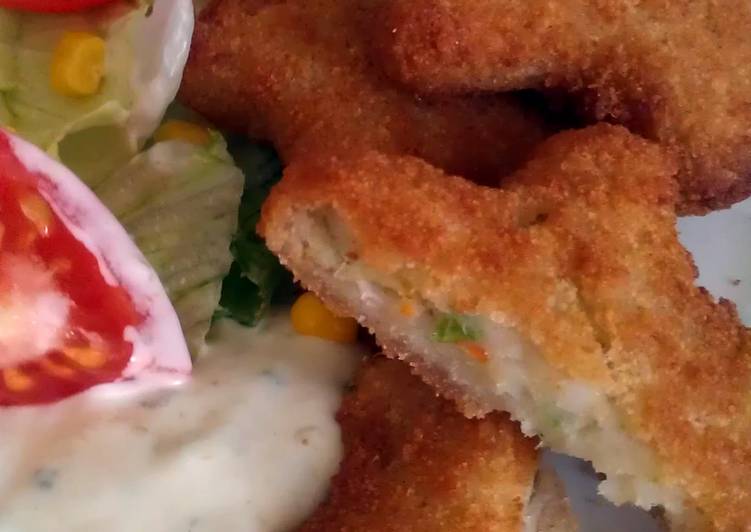 You can cook Vickys Potato and Vegetable Shapes, GF DF EF SF NF using 10 ingredients and 10 steps. Here is how you cook it.
Ingredients of Vickys Potato and Vegetable Shapes, GF DF EF SF NF
You need 6 of medium floury potatoes such as Maris Piper, peeled and quarter.
It's 1/2 of onion, finely chopped.
It's 1 of small red sweet pepper, finely diced.
It's 50 grams of baby spinach, chopped.
Prepare 125 grams of can of sweetcorn, drained.
Prepare 2 tbsp of chopped chives.
You need 1 of vegetable oil for shallow frying.
You need 2 tbsp of sunflower spread / butter.
You need 1 dash of light coconut milk as required.
It's of Optional GF flour, coconut milk and GF breadcrumbs for coating.
Vickys Potato and Vegetable Shapes, GF DF EF SF NF instructions
Put the potatoes in a large saucepan and cover with water. Bring to the boil on high. Reduce heat to medium and cook for 8-10 mins, until tender. Drain well.
Meanwhile, sauté the onion and red pepper for 4 – 5 minutes until tender.
Mash the potato in a large bowl, until smooth and let cool slightly.
Stir in the red pepper and onion mixture, spinach, corn and chives then add the melted safe butter and milk to bind the mixture. Season to taste.
Chill the mixture, covered, for 15 minutes. Form the mixture into patties. If the mix is too wet add some breadcrumbs to it. Too dry, add some light coconut milk or alternative of choice.
If desired, the patties can then be dredged in flour, safe milk then gluten-free breadcrumbs as shown in the cover pic but this step is not necessary.
Transfer to the oven tray and bake for 8 – 10 minutes until firm.
Preheat the oven to gas 4 / 180C / 350°F and line an oven tray with baking paper. Heat the oil in a large frying pan on high. Cook patties in batches for 2 – 3 minutes on each side until sealed.
These are great served with bacon, spinach and tomatoes and tomato chutney. Also great for packed lunches.
For a kid-friendly version, after forming the patties, chill again then use a cookie cutter to make cool shapes such as stars, hearts etc. Coat in flour, then milk and breadcrumbs as shown in the recipe cover picture then follow the cooking directions. You can change the spinach and red pepper for peas and finely chopped carrot if they would prefer!.